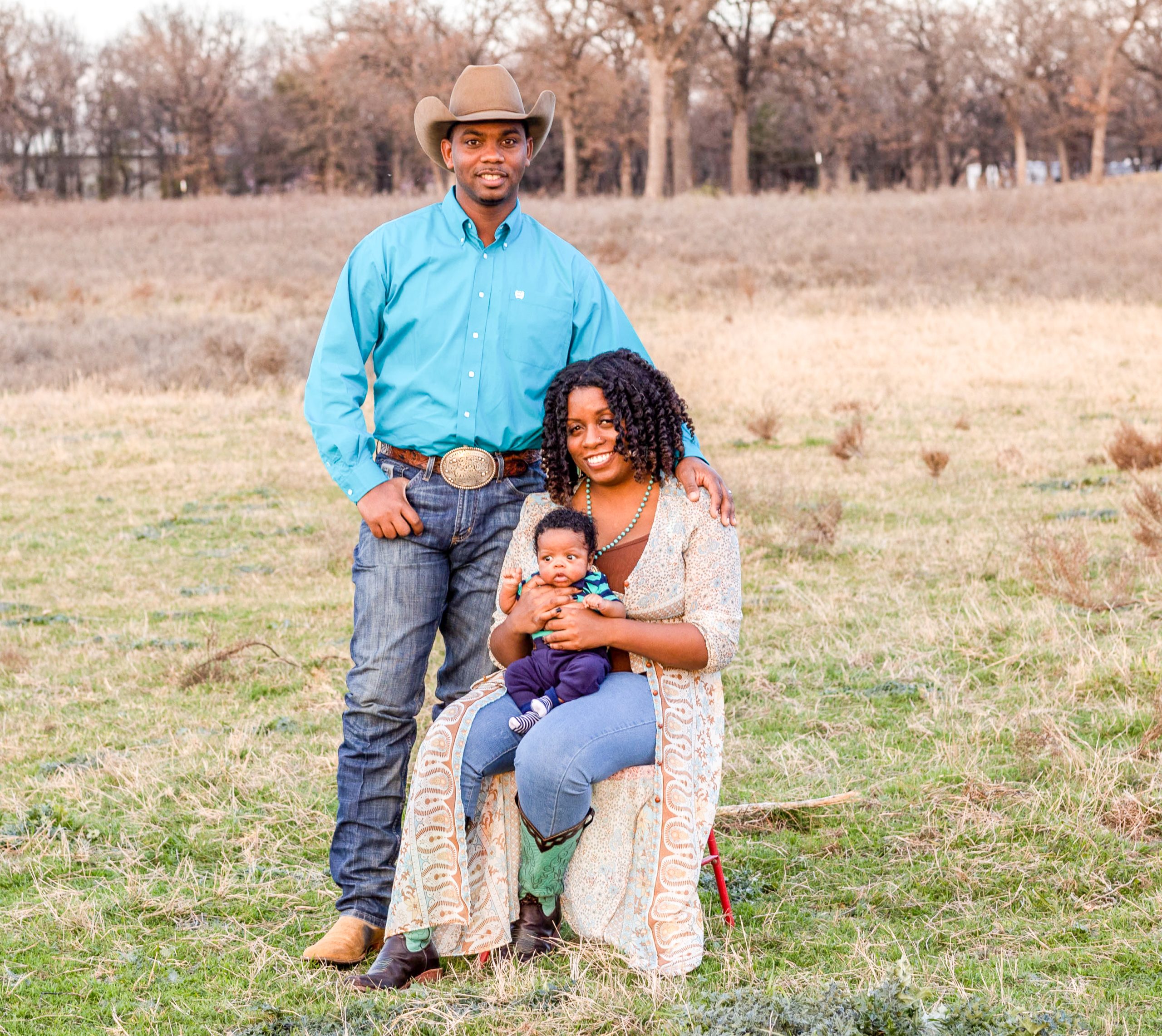 Ed Harrison is a proud husband of 8 years to Lillie Harrison and father to his first son, Eddrick Kai Harrison. Ed is an NRHA Professional and Social Entrepreneur from Weatherford, Texas. He has worked alongside of a few of the reining horse industries top professionals. Coming from a rodeo background, Ed got his first start in the horse industry competing in the event of steer wrestling and bareback bronc riding. In 2007, Ed decided that it was time to do more than tame the untamed, and graduated to becoming a horse trainer.
In 2007, Ed got the opportunity to work for NCHA Professional Trainer, Cody DuVall of Granada, Colorado starting colts and loping finished cutting horses.
Impressed by the cowiness of the cutter, but captivated by the finesse of the reining, Ed set his sights of the reined cow horse event. When one thinks about the reined cow horse, it is virtually synonymous with the west coast. In the summer of 2008, Ed was chanced to ride for the late, but legendary cow horse trainer, Benny Guitron. This exposure gave Ed a great boost of confidence when Benny told him that a job would be waiting for him upon completion of his college education.
Ed returned to Colorado to finish school and continued riding cutters for Cody; however, the reining horse just kept calling his name. The desire to learn finesse, timing and presentation soon led Ed to Scottsdale, Arizona to work under the watchful eye of NRHA Professional and WEG Team USA Gold Medalist, Matt Mills. To Ed's delight, this brief internship turned into a full time job riding colts, exercising horses and giving the occasional riding lesson.
After a short Sojourn in Arizona, Ed headed to the great state of Texas, to land a job with now NRHA Futurity & Derby Champion, Million Dollar Rider Casey Deary.
Ed spent a solid six years as part of the renowned Deary Performance Horse team, thriving under Deary's instruction in the area's of competing, training and coaching. Due to his hard work as part of the Deary Performance Horse team, Ed has become highly respected among industry professionals for his easy going teaching style and his phenomenal two year training program.
In addition to being a horse trainer, Ed is also an ordained evangelist and missionary. 
Though Ed was part of a winning team, his life took him in a direction that he never expected. Shortly after Deary won his first NRHA Futurity title, Ed took a temporary leave to fulfill God's calling upon his life for what he thought would be a one time missions trip to Nigeria, Africa. The one time missions trip turned into eleven trips in a four year time span, a children's church, multiple gospel crusades, youth empowerment seminars and two years stay on the African continent in 201 & 2017.
In his travels, he was invited to South Africa by a former client of Deary's, to assist at a small AQHA horse show in Johannesburg. After such a great response to Ed's presence at the horse show, they decided to organize a one day clinic before Ed boarded his plane to leave South Africa. Taking advantage of Ed's time in the country, many reining enthusiast came out to Arabesque QH Stud farm to sharpen their skills as well as have a bit of fun. Shortly after compiling the grainy footage from that very hot afternoon, Ed Harrison went into high demand in South Africa.
The one week trip to South Africa has since morphed into a full scale reining horse training barn and clinics operation, promoting the sport of reining and western performance in an english dominated horse culture.
In 2018, Ed brought a few clients back with him from overseas and began building his training barn in his homeland, Weatherford, Tx! Merging his training barn and ministry together into The Global Cowboy Performance Horses and Ministries, God will be sure to be glorified by all that he does!